INDEX OF ARTICLES
1. AJRE RISALAT .
2. QAMAR DAR NAJOOM
4 DOO SILSILE DOO RASTE

5 ALFAZ BOLTE HAIN

6. HAL MIN NASIRIN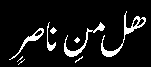 7. THE AMAZING COLLECTION OF THE HOLY QURAN.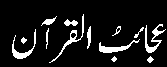 8. HUM MATAM KYUN KARTE HAIN
9. BASIS OF HAZRAT ALI's ENMITY
10. SHIA EMAAN BIL QURAN

Part-I :- Saying Of A'Emma-e-Ahllal Bait about The Holy Quran In The Light Of Shia's Books.
Part-II :- Quran and Ulama-e-Shia.
Part-III :- Quran and Ulama-e-Ahly-e-Sunnah
11. AQD-E- MUTTAH.

( In the light of Ahy-e-Bayat & Sahaba Karam Sayings )
12 MAZHAB-E-QATELAAN-E-HUSSAIN.
(A.S)

The Position of Shia Jamat of Kufa.
13. KALMEY MEIN ALI UN WALI UL ALLAH KION